Lately, I've been thinking more and more about getting a GPS to use when I run. I run a lot, and I do a lot of races, and every time I do a race I see at least one person wearing one of those "GPS watches". I've always just used a stopwatch to keep track of my time, but maybe I could benefit from getting a GPS designed specifically for runners. I decided to do a little research to find out, and this is what I discovered.
What can a GPS watch do for me?
At its most basic level, a GPS watch/running GPS unit is basically a stopwatch on steroids. It will of course keep track of your time, speed, distance, etc., but it will also keep track of your current pace, average pace, and pace for the current "lap" (which is any distance you specify, such as a mile). That, however, is just the beginning. Here's some of the features found on some GPS watches that I thought were really cool:
You can race against a "virtual runner" that you set up on the watch. Knowing how competitive I am, I think this would make training more fun for me and help keep me motivated to improve my time.
Some watches like the Garmin Forerunner 610 allow you to wirelessly upload a record of your training to a computer. You can see enough statistics about your workouts to make your head spin, but one thing I think I would really appreciate would be the ability to see the split times for laps over the course of a long run.
Many GPS watches can be wirelessly connected to a heart rate monitor you wear around your chest, which then allows you to keep track of even more data--like calories burned, cadence, etc.
Once you've analyzed the data from your training, you can create custom training programs right on the watch to help you improve. It's basically like having a high-tech treadmill that you can take anywhere.
Once I read up on all the features available with a GPS watch, I realized it was just what I needed to take my training to the next level. Also, since I like gadgets, I think having a "toy" to play with while I train will help keep me motivated to run more often, and make those long training runs a little more exciting. If you think a GPS watch might help you reach your performance goals also, here's a few you might want to check out:
Forerunner 910 XT
This is the absolute top-of-the line GPS watch, leaving no bells and whistles behind. It's designed for multi-sport athletes and can even be used in the water.
Forerunner 610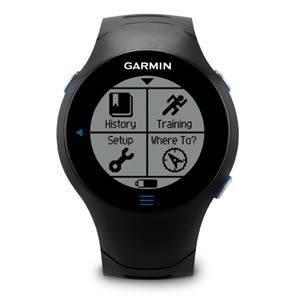 This touchscreen watch also gives you vibration alerts when you reach various parameters in your training that you set (i.e., distance and time goals).
FR 70
A basic GPS watch for runners on a budget, this one still has enough capability to really improve your training.
by: TAKE A HIKE GPS